Welcome to the 3D Dot Game Heroes Wiki!
The wiki about 3D Dot Game Heroes that anyone can edit.
Featured Video
About
3D Dot Game Heroes is a 2009 action-adventure video game developed by Silicon Studio and published by From Software in Japan, Atlus in North America and by SouthPeak Games in Europe. The game uses a unique style, presenting 2D, retro style graphics in a 3D environment.
The game follows a hero on a quest to rid the Dotnia Kingdom of a dark plague caused by the forces of evil in order to restore peace to the land. Legend tells of an evil king known as the Dark King Onyx who brought tragedy and darkness to the kingdom by stealing six magical orbs. However a hero rose up against the Dark King and with his legendary sword as well as the power of the orbs, he sealed Onyx away within another orb. However, the forces of evil rose again as the Dark Bishop Fuelle stole the orb and threw the Kingdom of Dotnia into a state of chaos once more.
Featured article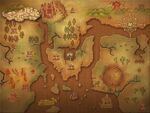 Dotnia Kingdom is a kingdom run by King Tezro. It is also where Princess Iris acts as the next person in the royal lineage. Dotnia Kingdom is where the game 3D Dot Game Heroes occurs. Read more.